For many homeowners, the first sign that there is a problem with their roof is the intrusion of water into the home.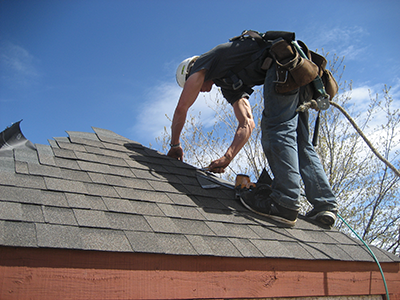 Unfortunately, if your roof is leaking, you've missed the chance to minimize the impact of the problem. Once water makes its' way into your home, it can cause extensive damage to the interior, and promote the growth of health-damaging mould.
Here are some things that you should be on the lookout for when considering the health of your home's roof in order to avoid damaging leaks:
1) Weather Damage
It's a good idea to take stock of any damage that may have occurred in the springtime, especially after a hard winter when ice damming and snow load may have caused problems. Winnipeg's strong summer winds can pull shingles right off the roof, so be sure to scan your roof for bare patches after each windstorm. Check in again before winter, to make sure you're ready for the harsh prairie weather.
2) Age
If you just had the roof properly replaced with fibreglass laminate shingles two years ago, it's unlikely to cause you a problem and should have a service life of 30-40 years. If your roof is older than 5-10 years, it's likely made up of organic asphalt 3-tab shingles which, disappointingly, survive only 10-20 years before needing replacement. As a rule of thumb, start taking stock when the roof reaches half to two-thirds of its advertised life.
3) Visible wear
If you have asphalt shingles, look up at them from the same angle as the roof slopes after you generally scan the roof from a distance. This will allow you to more easily see missing shingles, lifted edges, shrunken tabs, or excessively curled corners. If you see these signs of wear, call a roofing professional right away.
4) Eavestroughs
Check the contents of your eavestroughs. If they have a lot of granular material from your shingles in them, you know that your shingles are starting to deteriorate. One of the most common signs that it's time to look up at the roof is an ominous pile of granules resting at the ends of your downspouts which have been washed down from the roof.
At Above All Roofing, we have experience in repair and replacement of all kinds of roofing materials. If you suspect a problem with your roof, call us and get a free estimate, or speak with one of our advisors, who will come and look at your roof and offer expert advice.