A roof is a big investment. Its job is to protect the considerable investment you've made in your home or commercial building from the elements, which we know can be serious business here in Winnipeg.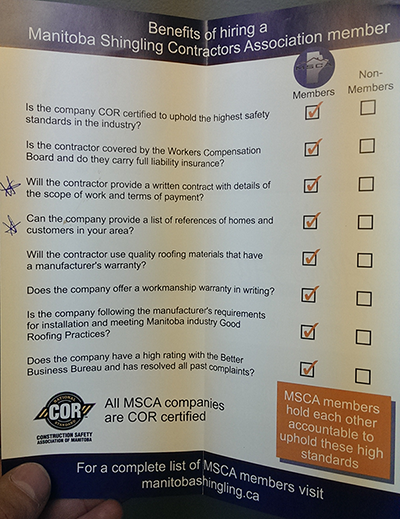 You can't trust just anyone with your roofing job. It's complex, and requires a knowledgeable and experienced contractor. With so many roofing companies around, how do you know you're hiring the right one? Here are some questions you can ask when you're shopping around:
1) Is your company a Manitoba Shingling Contractor's Association (MSCA) member? The MSCA members hold each other accountable to a list of safety and quality standards that ensures customer satisfaction. Member companies are also COR certified by the Construction Safety Association of Manitoba, which means that they are recognized as a safe employer.
2) Does your business carry insurance and pay Worker's Compensation? Ask for proof of insurance. If your contractor doesn't carry it, you could be held liable in case of an accident.
3) Do you have references? Get your contractor to provide you with a list of references, at least one recent and one that's several years old. New contractors might not be able to do so – you needn't assume that a new business can't do the job, but for your own peace of mind you might want to go with one with a proven track record.
4) What warranties will be in place? If the contractor is using a warranted product, they will have to adhere to the manufacturer's recommendations for installation. Will the Roofing Company itself warrant defects in workmanship? How long will your new roof be covered?
5) Who is responsible for cleaning up? Will your contractor be disposing of old shingles and other debris? Get it in writing as part of the quote.
At Above All Roofing, we pride ourselves on offering the best customer service in the business. When you need a new roof, get a free estimate, or speak with one of our advisors with any questions you might have.