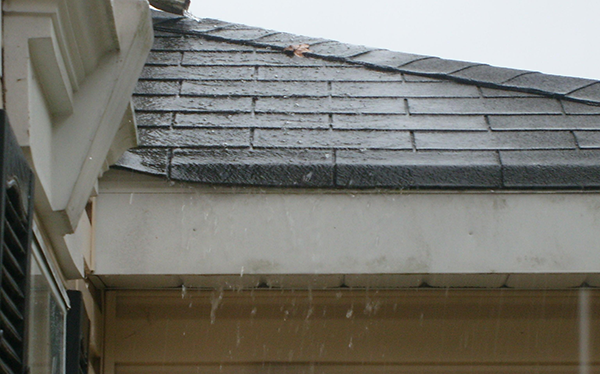 A wet spot has appeared on your home's ceiling after a big storm but it may not have been a shingle failure that caused it.
If a strong wind accompanied the rain, as it commonly does out here on the prairies, it's possible that the water came in somewhere other than through the roofing materials themselves. It might have been driven in past flashing around the edges of a dormer or chimney, through some siding, trim boards, windows, or even skylights. When the weather turns severe, it can be very difficult to pinpoint the source of a leak. In high winds, it's possible for rain to travel sideways many feet, or even upward, from its point of ingress, making it even harder to figure out.
The roofing specialists at Above All Roofing, can evaluate the exterior of your home, and help you find the weakness that's letting water in, whether or not it happens to be the shingles. We can then advise you on the best course of action, and carry out the repairs necessary to keep your home water-tight.
Water needs to stay outside of your house. If you've got water damage to the interior of your building, you need to correct the source of the leak right away, and then thoroughly dry the affected area. Water in ceilings and walls promotes mould growth, and can cause wood and other building materials to decay, causing structural damage.
In order to prevent this sort of emergency situation from happening, have your home regularly inspected for problems with the roof, siding, flashing, and windows. Timely maintenance can stop the formation of a big problem.
At Above All Roofing, we pride ourselves on offering the best customer service in the business. When you have a rain-driven leak or need a total replacement of the shingles, call to speak with one of our advisors with any questions you might have and we'll provide a free estimate for the solution that's right for you.