The only thing that one roof is guaranteed to have in common with another is that it is located at the top of a building.
Roofs come in many different construction styles, and are covered in many different surface materials.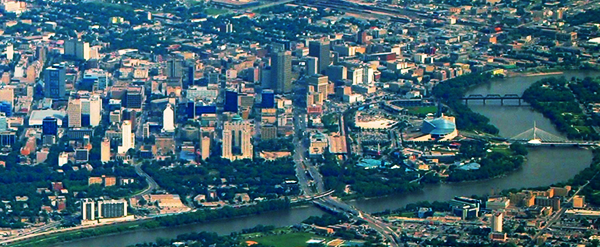 Hip roofs, gabled roofs, gambrel and barn roofs are all common here on Winnipeg homes. Businesses are more likely to have flat roofs, which vary too. Roofing materials range from the exclusive – copper, slate, and clay tile, to the more commonplace but very functional cedar shake and asphalt shingle. Every type of roof has its individual characteristics. Those with a very high slope tend to shed snow and water more easily, and last longer. Those with a lower slope are easier to resurface, but can require use of specific materials and techniques to keep them impervious to the elements. Slate and tile are very durable but require a specific skill set and specialized tools to service, and are made of expensive materials.
Conventional wisdom says that, when you're looking for roof repair and maintenance, you should seek out a service provider that's an expert in repairing or resurfacing the type of roof that you've got. Luckily, in Winnipeg we have Above All Roofing.
At Above All, we have experience in all types of roof construction, and all commonly used roofing materials, including some very exciting synthetic cedar shake and slate options, that combine the look of a premium roofing material with the environmental responsibility of a material made from recycled post-industrial waste.
At Above All Roofing, we have great customer service, knowledgeable staff, and access to the most innovative products in the business. When you need a new roof, no matter what type, get a free estimate, or speak with one of our advisors with any questions you might have.