The buildup of snow on your rooftop has caught your eye and you've come to the sad realization that someone has to get up there to take it down. Fortunately, Above All Renovations is here to help you.
The process starts with a phone conversation with one of our rooftop snow removal managers to arrange exactly what services you would need and any special considerations there may be for your project. We'll then arrange a tentative day that you can expect our snow removal crew to be by. You'll be happy to hear that there is no need for you to be home when the snow removal team arrives, but your ice dam removal needs can be discussed with the crew foreman if you are available to meet that day.
Our handsome crew usually consists of four men who will begin work on your rooftop right away and the foreman will greet you upon arrival. We recognize that actually being able to reach your door is important to most people, so after shoveling the snow off your roof, we will always make sure your walkways are cleared as well.  Let us know if there are any other special considerations like decks or dog runs that you would like cleared as well.
The foreman will leave the invoice with you or in your mailbox upon completion of the work and the hourly rate per man will be detailed on the invoice for you.
Now that the snow if off your roof, next comes arranging a time for ice dam removal if needed.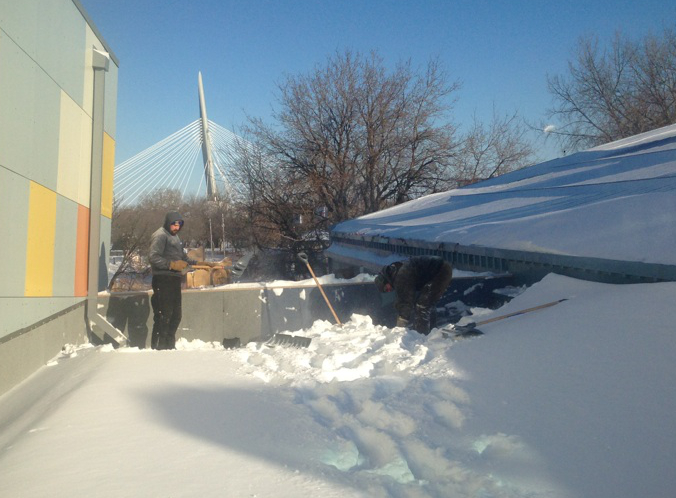 The ice and snow is gone for now but if, perchance, you don't want to have to think about when our next visit should be, our ongoing snow removal service will take care of that for you. Our sophisticated system tracks the amount of snow that has fallen since the date of your last clearing, triggering a signal once enough new snow has fallen. We then get in contact with you to arrange your next snow removal visit. In the end, our goal is that you will find the system simple and straight forward, eliminating the headaches and problems caused by rooftop snow and ice dams.